You are not logged in, please LOG IN or REGISTER for access to briefings and sending IGC files.
Liberec Eighteens › virtual soaring competition - 18m class
LATEST NEWS: Liberec Eighteens 2009 is a piece of history. Winners are: 1st Marek Svozil (22), 2nd Radek Miča (RM) and 3rd Jan Valášek (JAV). Thanks to all pilots for joining us and big CG to the winners!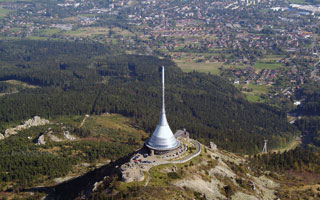 Liberec – city with 100 000 people, situated into beautiful valley between Jizerky mountains and Ještěd edge. On his top peak - Ještěd (1012 m MSL) - stands TV transmitter with hotel. He is dominance over Liberec county. In the world Liberec is know for latest World championship in Nordic Skiing. And until 90-th years 20th century either as textile, glass and costume jewellery town. Liberec airport have long tradition and Czech sporting aviations gave a few name: W. Sluka, M. Sázavský, A. Šanovcová...
This competition should be continuing successful competitions Christmas Minicup, Raven Competition and Praděd Gliding. It's small competition with five racing days for 18m class. But she have differential rules, should be is approaching realistic competition (with due regard for all Condor limitations). Please - give your attention to rules! Will be need registration, server password will be published in briefing. After all flights must send IGC.
Day, name, time: saturdays from April 4th till May 2nd, 2009 / Liberecké Osmnáctky / 20:00 CEST (18:00 UTC)
Scenery & tasks: Czech republic 0.5 by Miloš Koch (MK), tasks with PDA allowed, some AAT too

Condor › The Competition Soaring Simulator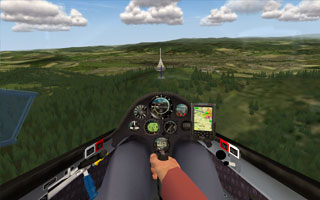 Condor: The Competition Soaring Simulator is designed to recreate the ultimate experience of competition soaring on your PC. A lot of attention was put in to create an environment which would create an immersion of real competition flying. This means that the aerodynamics and weather physics were in focus of the development. The result is amazingly real feel of flight in all flight regimes and weather conditions which challenges a real soaring pilot on a competition day.
Amazing feel of flight due to the advanced flight dynamics model: Advanced 6DOF flight model for complete freedom of flying / Accurate sailplane performance and handling – also at and beyond critical angles of attack / Sailplane damage simulation – flutter, high G stress, collisions / High time fidelity physics engine (up to 500 cycles per second) / Accurate ground forces for realistic takeoffs, landings and crashes / Detailed, sub-object collision detection for mid air and ground object collisions / Accurate conditions for a realistic towing and winch start.
More informations about this simulator you can get at www.condorsoaring.com. Some screenshots and movies from this soaring simulator also here.